I'll be crossposting for a couple of weeks
to make sure the word gets out.
Please update your links!
I've mentioned that I've had some ongoing eye troubles, which is why I'm wearing glasses most of the time. In early November I got an ulcer in my eye, aka
keratitis
(don't click if you're squeamish), and I promise it's something you Do Not Want. Ever. The treatment and follow-up doctor visits have cost hundreds of dollars, not to mention the more expensive contacts I've had to switch to, which I'm only allowed to wear two days a week while the healing continues. But considering that my sight wasn't damaged, it's truly not a big deal.
All that to say, at my last visit, my doctor told me to start using an eye mask overnight to minimize air circulation around my already dry eyes. I'd been using one on trips for a while, so I was okay with that. I started sleeping in a very cute eye mask that my friend Tessa gave me years ago, and noticed a difference right away. But within a few weeks, the elastic stretched so much that the mask slid around and wouldn't stay on my face. Very annoying. I decided to sew another mask, but didn't want to run into the same problem within a short time. I needed an adjustable strap. Then an idea hit me!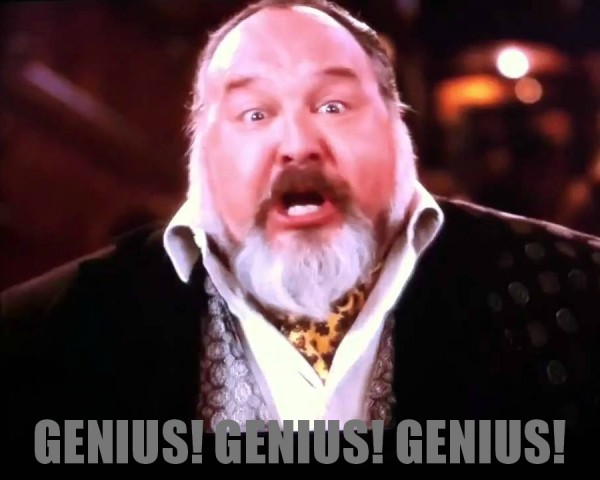 If you recognize this movie, please tell me so we can be friends.
I sewed the main part of the eye mask according to
this tutorial
. I traced my existing eye mask onto two fabric pieces and one piece of batting, then sewed them together as instructed. It was very casual - I didn't even measure anything.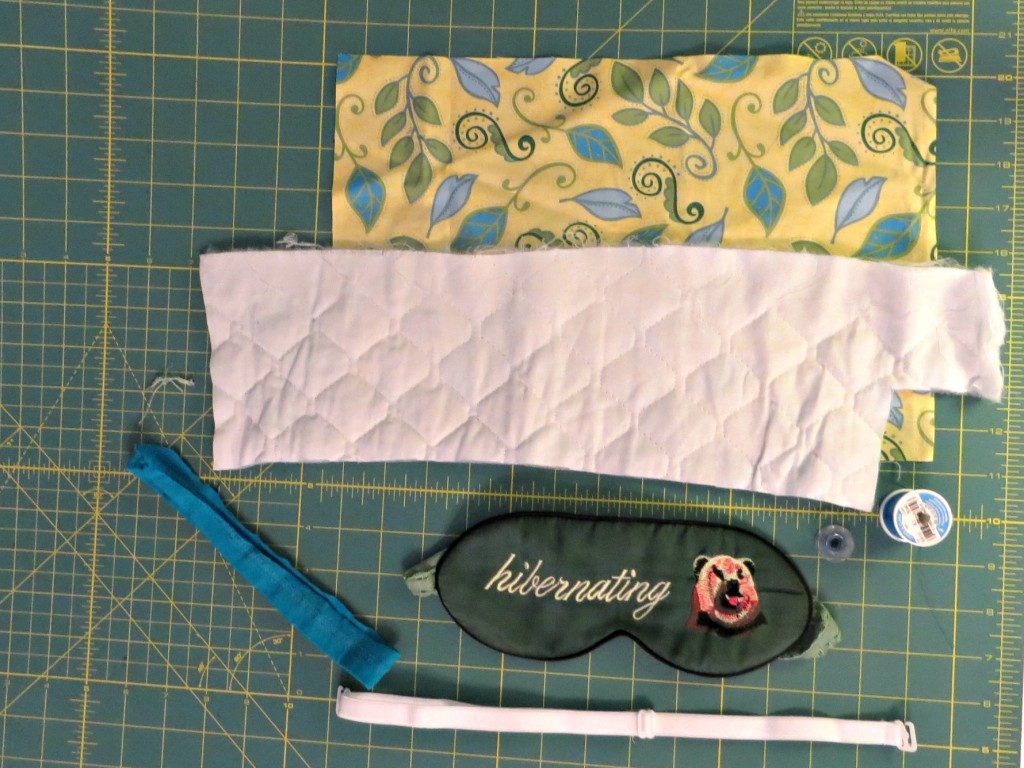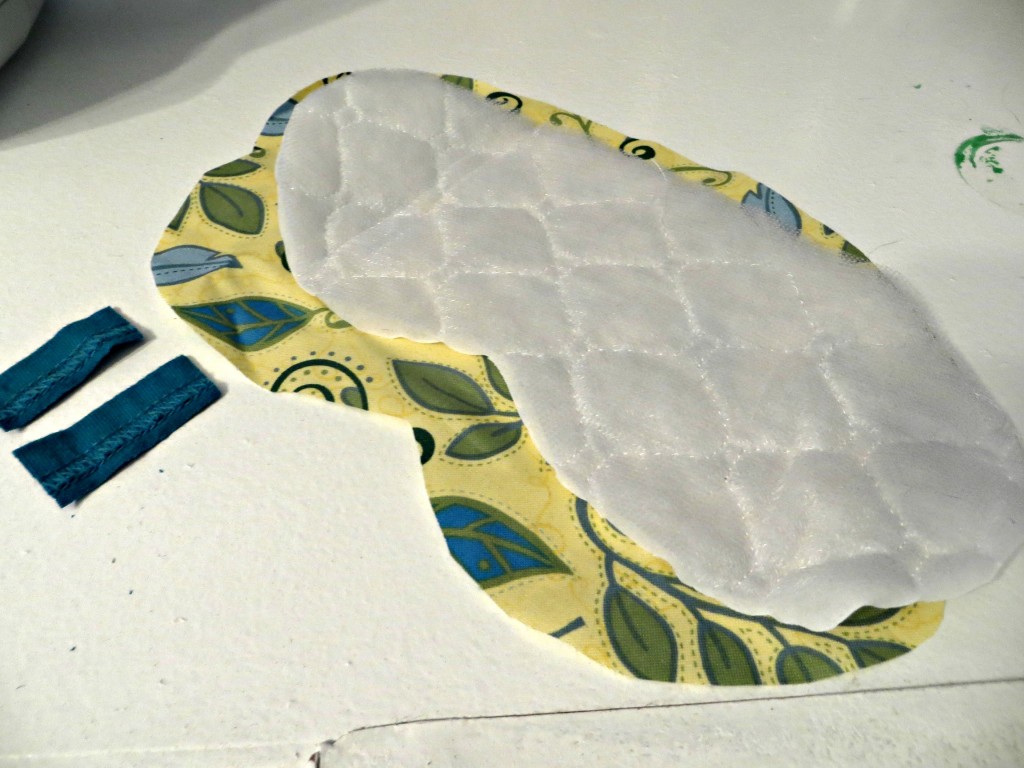 Instead of following the instructions for the elastic, I cut two small pieces from a T-shirt I had already made a scarf out of. I used the sleeve seam, to take advantage of the extra strength and use a scrap that would otherwise go to waste. I sewed them to either side of the mask to make loops, into which I hooked...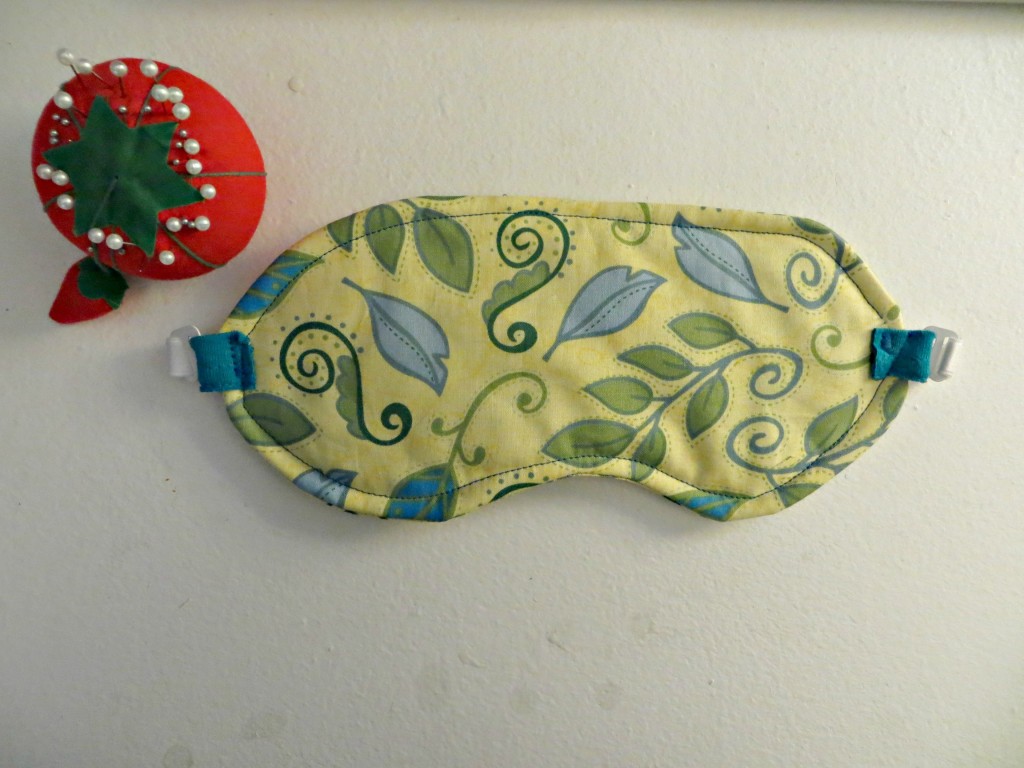 ... a bra strap that I already had, from one of the many convertible strapless bras I've deluded myself into purchasing. The hooks stay secure in the loops, and I can continue to adjust for fit. Perfect!
I've been using the sleep mask for almost a week now with great success, and plan to make a couple of spares. Maybe I could even sell them on Etsy!